Menu

Sublime Fustion 3-course shared dining menu
How does it work?
Book your table online via this website.
Fill in your unique dinner voucher code at the reservation form.
Show your voucher at the restaurant, enjoy your lovely menu and get €20 discount of your total bill.
A maximum of 1 dinner voucher per 2 persons. The menu price of €16.00 is only valid for the first person. The second person pays the normal price of €36.00. See our terms for more information.
Reserve a table
Reserve a table
What people say of Eethuys 1535
Write a review
---
"Heerlijk avondje uit "
Heerlijk gegeten, fantastisch menu en zeer bekwame en prettige bediening. Een echte aanrader! Zeker voor herhaling vatbaar :-)
Zoef
at 20 January 2020
Verified
---
heerlijk eten en zeer bijzondere gerechten.
sandra schrauwen
at 20 January 2020
Verified
---
Verassende ambiance icm gerechten. Duidelijke uitleg en vriendelijke bediening
Ad van Loon
at 19 January 2020
Verified
---
"Erg lekker gegeten!"
Lekker eten, mooi opgediend, flexibel met allergieën, fijne sfeer en ze hebben ook doggy bags (flinke porties)
Vincent van Ineveld
at 15 January 2020
Verified
---
"Eethuys 1535: beslist de moeite!"
Erg goed gegeten in een sfeervolle en gastvrije omgeving. Aan te raden. Voor ons was dit de eerste, maar zeker niet de laatste keer!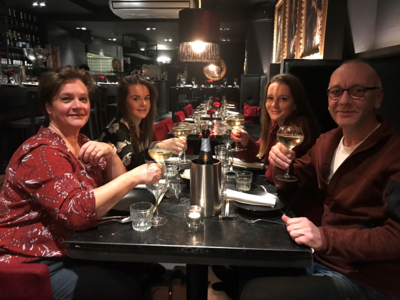 PJG Zwaans
at 12 January 2020
Verified
Torenstraat 11 4811 XV Breda
About Eethuys 1535
Eethuys 1535 in Breda is an Asian fusion gastrobar. The restaurant has a cozy and intimate atmosphere. The kitchen offers an exciting combination of flavors from the East and South of America. Especially the Peruvian influences can be tasted in the delicious dishes. A mix of trendy and classic! Enjoy shared dining with the people you love. Come quickly to Eethuys 1535 and be surprised.
Reserve a table
Reserve a table