The Livingroom (Eden Hotel Babylon)
Delicious 3-course menu (27 choices)

€35.50

€15.50
Reserve a table
Menu

Delicious 3-course menu (27 choices)
Cash in you Restaurant Dinnervoucher worth € 20,00 at The Livingroom (Eden Hotel Babylon) and make your reservation.
You can choose a selection of starters, main courses and desserts. There is always a meat, fish or vegetarian option available.
How does it work?
Book your table online via this website.
Fill in your unique dinner voucher code at the reservation form.
Show your voucher at the restaurant, enjoy your lovely menu and get €20 discount of your total bill.
A maximum of 1 dinner voucher per 2 persons. The menu price of €15.50 is only valid for the first person. The second person pays the normal price of €35.50. See our terms for more information.
Reserve a table
Reserve a table
What 29 people say about The Livingroom (Eden Hotel Babylon)
Write a review
---
-
Anet Veldkamp
at 16 March 2020
Verified
---
"Delicious food, wonderful service"
We were quite surprised by how good the food and service was. We definitely go back again.
Azar
at 11 March 2020
Verified
---
Mooi plekje in Den Haag, met heerlijk eten en zeer vriendelijke bediening. Een echte aanrader voor een ieder die in een mooie, rustige sfeer wil dineren
Arie
at 09 March 2020
Verified
---
Nice service; food average (poor quality of products).
Mabo
at 08 March 2020
Verified
---
"Couscous"
Voorgerecht, prima in orde. (couscous) Hoofdgerecht, seaweed burger was minder. Daarin tegen was de bediening top, de wijn erg lekker en de sfeer ook gezellig.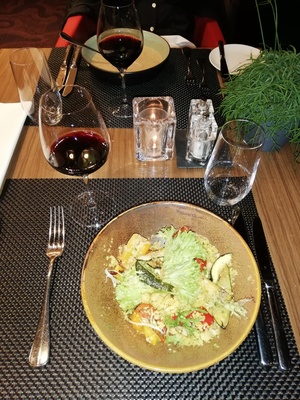 Patrick Sijstermans
at 28 February 2020
Verified
Bezuidenhoutseweg 53 NL-2594 AC The Hague
About The Livingroom (Eden Hotel Babylon)
The LivingRoom in The Hague is located right on the beautiful Haagsche Park. This restaurant is part of the modern 4-star Eden Hotel Babylon which has a great reputation.
 
The LivingRoom is the best place of The Hague to enjoy the best culinary dishes.
Reserve a table
Reserve a table