Menu

Fabulous 4-course Chef's menu in Veenendaal
How does it work?
Book your table online via this website.
Fill in your unique dinner voucher code at the reservation form.
Show your voucher at the restaurant, enjoy your lovely menu and get €20 discount of your total bill.
A maximum of 1 dinner voucher per 2 persons. The menu price of €12.50 is only valid for the first person. The second person pays the normal price of €32.50. See our terms for more information.
Reserve a table
Reserve a table
What people say of Mucha
Write a review
---
"Aanrader"
Mooie gerechten, erg lekker gegeten
Marieke
at Today
Verified
---
"Fijn avondje uit!"
We hebben een fijne avond gehad bij Mucha! Sfeervol ingericht. Heerlijk gegeten! Goede ontvangst en lieve gastvrouw. Kortom een aanrader wanneer je in Veenendaal bent. Ook makkelijk: parkeerplaats bij het restaurant!
Rien en Hannie, Asten
at Yesterday
Verified
---
Heerlijk en gezellig gegeten!
J.J
at Yesterday
Verified
---
"Een verrassend "Chef's 4-gangen diner"
Samen met onze buren kijken we terug op een geslaagde avond.
Gerhard N. Spaink
at 20 February 2020
Verified
---
"Heerlijk eten, fijne bediening & geweldige sfeer! "
Heerlijk gegeten bij restaurant Mucha. Boven verwachting! Mooi gepresenteerd. Fijne medewerkers in de bediening die rustig de tijd nemen om het gerecht uit te leggen. Ze zijn erg oplettend. Het restaurant ziet er fantastisch uit. Echt uniek! Mooie grote kroonluchters en een prachtige ligging aan het water in Veenendaal. Een echte aanrader dus!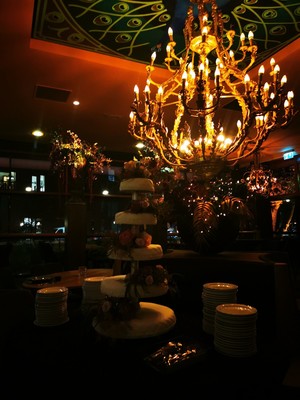 Barry
at 20 February 2020
Verified
De Sterke Arm 1 3901 EK Veenendaal
About Mucha
This restaurant is located at a unique location on the water near the center in Veenendaal. The modern appearance of the building and the atmospheric ambiance of the restaurant ensure that you feel completely at home on the water of the Grift.
Atmospheric dining by the water of the Grift canal. Beautiful location where you can eat and be amazed by the creativity of the chef. What do you think, for example, of a "Tartar of Butterfish with cream of avocado and a poached egg"? It is a fantastic appetizer with many different flavors. Or as a main course the Entrecôte from the Bradley Smoker lacquered with Surinamese marinade and a grilled bimi? Sounds very attractive, don't you think? Get to know striking dishes and be pampered by the staff in this beautiful restaurant.
Reserve a table
Reserve a table